Feeling under the weather today and thought I would share how to make a ribbon wreath.
I've always liked rag rugs and quilts, blankets and other crafts made from left-over fabric and ribbon.
Saw a ribbon wreath similar to the one below and really liked the way it looked. I found this one at Etsy.com for $50 plus $10 shipping. It's 12 inches and very pretty.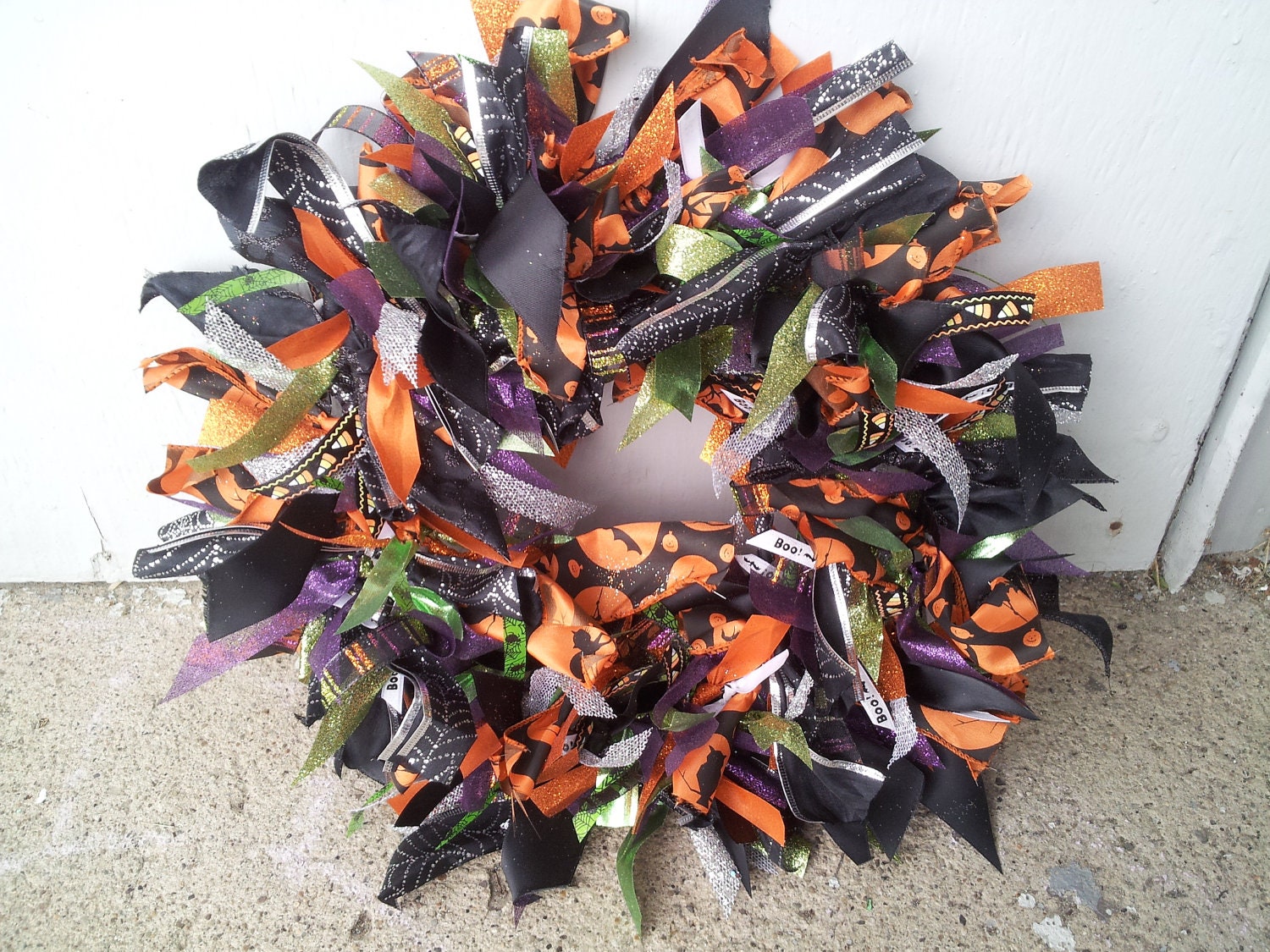 Thought making my own would save some money and give me the look I wanted and I am not disappointed.
Isn't she pretty?
I think she's beautiful - the perfect fall colors and doesn't she look great against the black door?
You can make one too - just follow these directions:
You'll need an 16" wire wreath form and several (like 28!) rolls of ribbon of all widths and lengths - from 3/4"-2" wide x 3-8 yards long depending on the roll. They can be cotton, sheer, wired or textured. I raided the $1 bin at A.C. Moore and found all but 3 rolls. The last 3 rolls were $3.99 each and I only paid it because I really liked the color/texture/style.
Cut your ribbon into 6-7" pieces and lay out in the order you want them to be tied to the wreath. The reason there are two photos above is that I ran out of ribbon about half way through and had to go back again to the store to purchase more. That was difficult because not all the originals I purchased were left in the dollar bin so I had to buy different colors/textures/widths and then weave those in among the original batch in order to make everything uniform. So DO YOURSELF A FAVOR and buy 28-30 rolls to begin with(-:
Once you have everything laid out - start tying. No need for knots, just a simple cross tie will do the trick. I completed the outer wire, skipped the next one and completed the third (there were four wires). I packed the ribbons into the sections so they were nice and full. After those two wires were complete, I used up the remaining ribbon on the wire closest to the center. I did not pack them in, but spaced the ribbons out along the wire to add some extra texture and color at the center circle. Then I puffed it all up, added a hanging ribbon and VOILA:
It cost around $43 to make but you could do better if you find a good deal on ribbon. Also, I like the "ragged" look, so I did not burnish the ribbon edges to keep them from fraying. You can do that by burning each edge or decrease the fraying by cutting the ribbon on an angle. Also, you could add a pretty bow if you like.
It would also be neat to make a "rag wreath" using left over strips of fabric. If you decide to make your own, post a photo in the comment section to share.
Have a great day! Happy Fall!